Off to Singapore for a few days to the Asia Montessori conference. Looking forward to the 25 – 30 degree weather after Beijing's minus 10 C with wind chill to -17 C.
Debbie's boss treated us all to the company's lounge at the airport which was nice. They had a light buffet available as well as massage and rooms if you were so inclined. …
We weren't.
Not today in any case.
The driver got us here way too early for the flight so we ate and then I thought I would take this opportunity to update this sorely neglected blog.
Hopefully I will be more regular now that we have living arrangements in hand and internet provided. We will be traveling for the next month though so unless I take advantage of airport time I might be pressed for time. Back to Beijing on Saturday and Monday we leave for Victoria getting back to Beijing after New Year.
I'm looking forward to celebrating the Chinese New Year or Sping Festival as they call it, in Beijing this year. I will certainly try to get pictures for the blog.
By the way if there are any pictures of thing you would like to see let me know in a comment.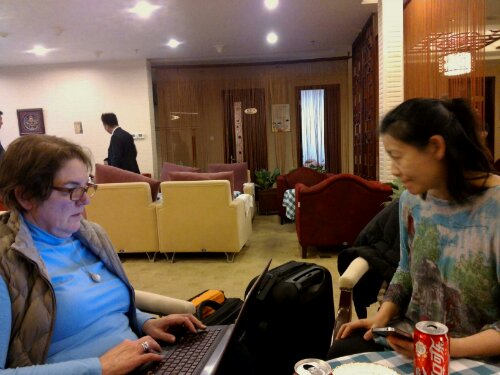 Debbie and Jesse Working in the VIP Lounge in Beijing while awaiting our flight.